Did you know that a man is 33% more likely to get prostate cancer
than a woman is to get breast cancer? It's true.
A husband, father, son, brother, grandfather, friend dies
every 19 minutes of every day from Prostate Cancer
Are you a male 40-75
or over 35 and African American
or your father or brother had Prostate Cancer?
Get tested! PSA and DRE*
Someone you know may be affected.
One in every six men will get prostate cancer.
35% will be under the age of 65.
There will be over 2.8 million cases of prostate disease reported in 20179.
For over 180,890 men, it will be prostate cancer.
Over 26,120 will die because
they didn't get an examination or didn't act soon enough.
Don't let it be said, "He was too afraid or embarrassed to get tested."
We cannot rest until we win the battle against Prostate Cancer.
7:28
Take the Risk Factor Test
Four Important Things to Remember before Getting Tested
1. Be sure that you're rested.
2. No sexual activity for 72 hours before the test.
3. Got a cold? Put it on hold.
4. Either have your PSA test before the DRE or delay taking a
PSA test for 48 hours AFTER you have had your DRE test.
* If you get a reading between zero and 1, get tested again in five year.
If the reading is between 1 and 2, get tested again in two years.
If the reading is between 2-4, get tested every year.
If the reading is over 4, consider additional tests like PSA free, AMAS, ultrasound, x-rays, and more blood t
ests, then, maybe a biopsy. And, take this health opportunity to learn every thing you can about
prostate cancer! Call the PCA Coalition hotline with questions about prostate cancer:
888-245-9455
Weekly updates of important news and information at
Newsbytes
Best Reason to Fight for More Research
The Prostate - The Short Version

The Prostate - The Long Version:
Prostate Enlargement (Benign Prostatic Hypertrophy)
PSA3 Urine Test
NEW Early Stage Prostate Cancer Videos
10 Steps to a healthier life and reduced risk of most cancers
Prostate Cancer Awareness Week - Free Screenings
Free prostate Screenings during Prostate Cancer Awareness Week
Similarity to Breast Cancer
PSA3 Urine Test
Deaths Per Research Dollar Spent
Prostate Canceer Awareness Pin
Goodbye Prostate Cancer Awareness Stamp
Viagra news coverage concerning discrimination in insurance payments
Statins increase the risk of prostate cancer

Kaiser Permanente Recommends Against Prostate Screenings
The Prevalent View of ASCO, the American Cancer Society and many HMO's
Newsbytes - Lists hundreds of news items most linked to their source.

items weekly.
Take This Quiz First
Impotence: Causes and Solutions
What Lifestyle Changes May Help Prevent or Treat Impotence?
Older patients often "left in the dark" about treatment options
Older Lovers Are Less Desirable Fathers
If He Can't Perform in Bed, Don't Get Mad, Get Him a Doctor
Impotency and Cholesterol
The Marlboro Man may be impotent
Infertile men at greater risk of testicular cancer
Men, Sex & Diabetes

Remedies for Impotence. Who Said?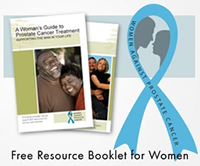 Magazines/Newsletters
Events
Health Awareness Calendar
Prostate Cancer Awareness Week - The 3rd full week in September

Prostaet Cancer Awareness Week is always the 3rd full week in September. Each day the following topic will be discussed. You can subscribe, free-of-charge, for these newsletter at menstuff-subscribe@topica.com or visit us on-line at "Today" on our home page.

Sunday - Night vigil for men who have died or are suffering from prostate cancer
Monday - Background, Information
Tuesday - Prostate cancer prevention
Wednesday - Symptoms and common prostate problems
Thursday - Treatment and after/side effects of various prostate problems
Friday - Living Life After Treatment
Merchandise
---
VolunteerMatch
Not only the Federal Government, but many corporations have reduced their charitable contributions in recent years. This means reduced services and in many cases, the elimination of services. Many men's services, like this one, are run out of our homes. We foot the bill because of our commitment to men, communities, families, relationships, etc. To keep going, and in many cases just to survive, volunteers are needed. You can make a difference. If you have a few minutes, hours, days, one-time or over a longer period of time, there is a place that can use you.
We are proud to be part of VolunteerMatch, a national non-profit system that has listings for volunteers all over the country. You pick what suits you best. (They don't have a category for "men" yet, and we're working on them.) Below, you can search for opportunities that you can do from home, like the opportunities we have. And they also list opportunities within a mile of your zip code, 6 miles, 20 miles, etc. What have you done lately? Make a difference. It's never to late to start!
---

Disclaimer: pcaw.org is produced by the National National Men's Resource Center. This web site seeks to inform and educate men on the many issues that confront them today regarding the possible dangers of prostate cancer. Information presented in this free web site does not necessarily represent the official position of NMRC. Moreover, information in pcaw.org is culled from diverse web sites and information sources. NMRC cannot guarantee the accuracy of these sources. Due to the timeliness of the information, some links will change and/or deactivate without notice.

Information is designed for educational purposes. We are not engaged in rendering medical or psychological advice or professional services. Any decisions should be made in conjunction with your physician or therapist. We will not be liable for any complications, injuries or other medical accidents arising from or in connection with, the use of or reliance upon, any information on our web site.
---


pcaw Directory
Contact Us
©1996-2017, Gordon Clay
---