Brachytherapy


---
Prostate Cancer Awareness Week (pcaw.org) has compiled information on the issue of brachytherapy.
30 Hours After Brachytherapy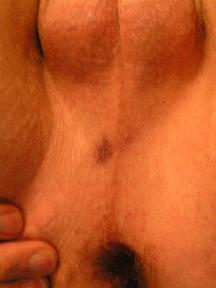 Note small needle pricks just above the anus and small bruise below scrotum. That's it.

Brachytherapy Pre/Post Schedule

Seeds Help Recurrent Prostate Cancer: Brachytherapy Treats Prostate Cancer That Has Come Back

---
Implanting radioactive seeds -- called brachytherapy -- into the prostate of men with recurrent prostate cancer is safe and effective. Doctors once said this could cause undue harm in men who already had radiation.

"As more men are treated with external radiation the first go-around, we will see more recurrent prostate cancer in the future," researcher Robert E. Weiss, MD, tells WebMD. "This study presents initial data suggesting that brachytherapy may provide a treatment option for these patients." Weiss is with the Robert Wood Johnson Medical School in New Brunswick, N.J.

Brachytherapy after treating prostate cancer with external radiation -- where the radiation is directed at the prostate from outside the body -- was once ill advised. Doctors thought that this would expose the prostate area to too much radiation and damage the normal surrounding tissues.

Weiss and colleagues studied 20 men with prostate cancer who had initially been treated with external radiation. They were later diagnosed with localized recurrent prostate cancer -- meaning that the prostate cancer returned in the area of the prostate and not somewhere else in the body. Each of the men was then treated with brachytherapy.

The research was presented at the American College of Surgeons annual meeting.

In the end, there were no major complications from the brachytherapy procedure. At about one to two weeks following treatment, temporary side effects included bladder irritation in 35% that lasted one to two weeks. Erectile dysfunction occurred in 25% of those who were potent before brachytherapy. These symptoms were similar in men diagnosed with prostate cancer and initially treated with brachytherapy. However, a higher proportion of men (55%) developed urinary bladder obstruction, including one man who needed a long-term catheter.

Four years after the procedure, 70% of the men were free of prostate cancer -- as determined by PSA blood tests.

The researchers cautioned that the use of brachytherapy following external radiation treatment in men with recurrent prostate cancer needs more study. However, this preliminary study shows that brachytherapy in these men may be a viable option to other treatments, such as hormone therapy.
Sources: Meeting of the American College of Surgeons, Chicago, Oct. 19-23, 2003. American College of Surgeons, 2003; vol 197:S91. News release, American College of Surgeons. my.webmd.com/content/article/75/89848.htm
* * *
---
As a non-profit organization, a purchase of books through us helps continue our work to end men's isolation. So, wherever you find a book you would like to purchase, click on the words "Buy this book". Or when you want to see other books on the issue that we might not be aware of, click on the "amazon.com" box at the end of that issue.
---


pcaw Directory
Contact Us
A service of The National Men's Resource Center™
©1996-2012, The National Men's Resource Center
http://www.pcaw.org